A Community Setting that Strengthens Independence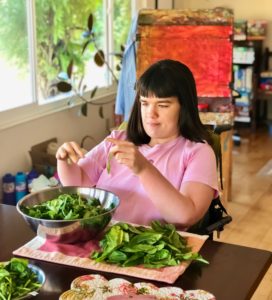 The Developmental Services program at Sweetser offers an opportunity for adults with intellectual and developmental disabilities to live in a community setting in Bangor and Belfast, Maine that supports wonderfully rich and fulfilling lives. This is a community made for living an active life and strengthening independence, with guidance from direct support professionals.  
Community living forges friendships and lifelong support networks and teaches essential life skills. Residents with moderate to severe intellectual disability make meaningful contributions to the larger community.
Person Centered Plans can include:
learning skills to live more independently
finding and keeping a job
opportunities to engage with and be included in the wider community
developing social and interpersonal skills
practicing functional skills like cleaning and maintaining a home, preventing and dealing with emergencies, reading street signs and bus schedules, problem solving, and more
Every program participant receives round-the-clock care from dedicated, highly trained direct support professionals. Transportation to and from medical and dental appointments, to meet personal and business needs, and for attendance at community inclusion activities is provided.
If you have an adult family member with an intellectual or developmental disability, call 1-800-434-3000.
Join our Team as a Direct Support Professional! Here's what our staff have to say:
Tabrizia Lemon: "I love that I get to work with amazing people and I'm able to help them. I can go to school to further my education in the field while still working at my dream job. I love my co-workers and how willing people are to step up when others can't. Our job can be the biggest blessing on a day to day basis! The love and compassion I meet every day is undoubtedly a strength within our staff and the understanding from our clients is unmatched during these hard times."
Apryl Mayo: "It's an amazing feeling to have a positive impact on someone's life who lives daily with disabilities. To help them be independent in their daily lives and try to live a normal life – a happy life."
Raymond Bouchard: "I love being able to bring happiness to their lives by doing some of the simplest things. Some enjoy fishing, or shopping or whatever it might be. To be able to do these simple things with them and it makes their day. The appreciation they have for someone caring is very rewarding. The pride in them that you feel after working on goals and life skills with them when they start making progress. This job has made me a better person by teaching me to be more compassionate, patient, tolerant and understanding. The rewards of working as a DSP are numerous. I have met some very special people in the last six years."
Susan Jackson: "What I love about this job is making a difference in their lives — watching them grow and completing their goals in life."
Cassie Russell: "My favorite part about this job is the fact that I am doing every possible thing to my best ability to make our clients happy and comfortable! Building those connections with our clients is another big one for me! Putting a smile on their faces is a priority for me!"
Justine Paradis: "I love looking at the smile on clients faces. Small favors to our clients makes a life difference."
Nancy Williams: "I love helping people to be as independent as they can be. As a caregiver, that's what I love to do."
Randal Miles: "What I have enjoyed the most so far is getting to know the clients and making connections. My oldest brother was autistic and working with the autistic clients is a special treat for me. Especially when they do something outside of their routine without being prompted. I never would have thought that I would be doing anything like this, but I absolutely love my job and being a part of the amazing team that we have."