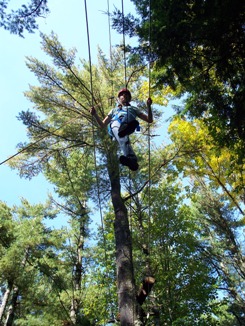 ABL Programs for corporate leadership teams are tailored based on meeting the needs and goals of your group or organization. Our programs are designed to inspire and reinforce teamwork concepts and our programs help build relationships.
Your corporate team will work together on the FOCUS Challenge Ropes Course at Sweetser in Saco, Maine. The training delivered will include several Behavioral Style Inventories, and incorporate Conflict Resolution Theory, Anger Management, Coaching and Team Development models which have been proven effective in working with a variety of teams.
FOCUS Through Adventure facilitates team development and group learning. We serve as consultants, trainers and facilitators to create a well rounded program to suit your needs. We believe Adventure is an important tool for gaining insight, learning, self-exploration, discussion, and sharing. By employing experiential-based learning activities, your training program will:
Foster group communication and decision-making skills;
Build a sense of community;
Increase self-esteem and self-awareness;
Strengthen creative problem-solving abilities;
Encourage leadership development;
Nurture mutual support and trust;
Clarify and explore personal value systems.
Contact Information
Our programs provide a unique opportunity for groups to work together and develop key skills they will be able to bring back to the classroom, field or office.
For more info or FOCUS Challenge Course reservations, please contact:
Donna Murray, Director
207.294.4929
dmurray@sweetser.org