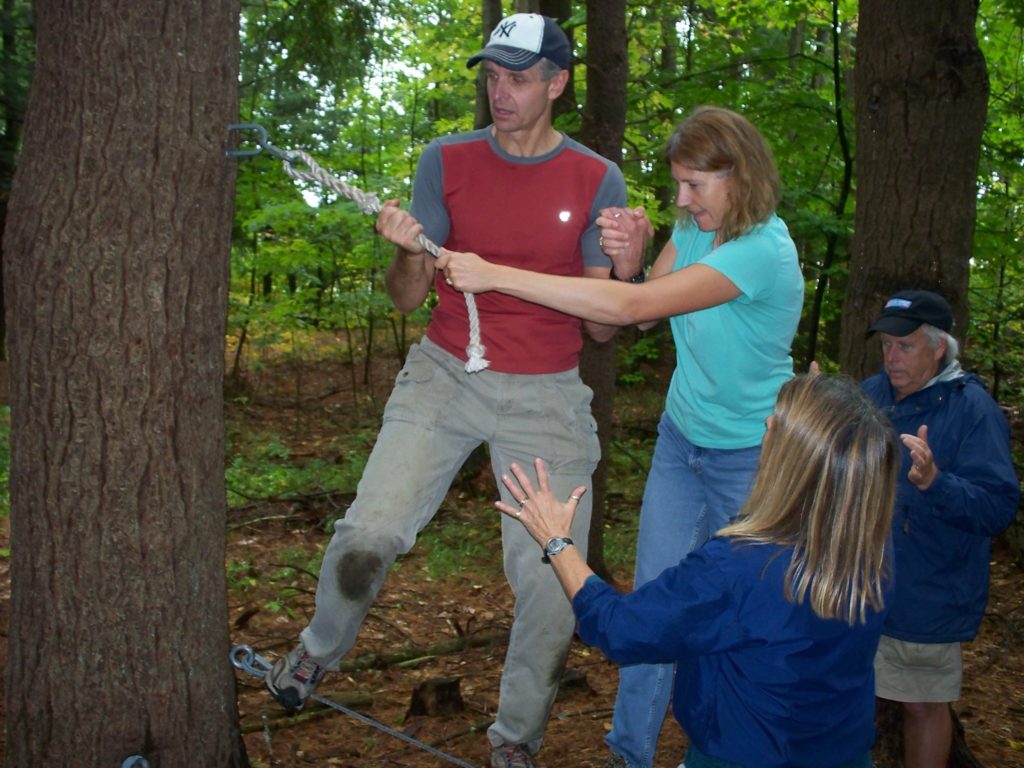 ABL Programs for corporate leadership teams are designed to specifically meet the goals of the group or organization, give lasting results, and fit your corporate culture. Our programs are designed to energize, inspire, and reinforce teamwork concepts; our programs build relationships and remind teams that working together produces great results.
Teams are a basic unit of getting work done in any organization, regardless of size or industry. Many of today's issues leave employees unable to perform at their highest level. One way to reenergize your team is by offering the members and opportunity to work together on similar goals, outside of the office environment. The skills employees will learn together in a new environment, are then easily brought back to the office space. Human contact, collaboration, communication, and support can improve performance and employee attitudes.
Your corporate team will work together on the FOCUS Challenge Ropes Course at Sweetser in Saco, Maine. The training will deliver several Behavioral Style Inventories, and incorporate Conflict Resolution Theory, Anger Management, Coaching, and Team Development models which have been proven effective in working with a variety of teams.
FOCUS Through Adventure is a local leader in the field of Adventure-Based Learning and experiential education. We serve as consultants, trainers, and facilitators to create a well rounded program to suit our client's needs. We believe Adventure is an important tool for gaining insight, learning, self-exploration, discussion, and sharing. All leaving a lasting impact on onself, one's relationships and one's community.
FOCUS Through Adventure facilitates team development and enhances group learning, while at the same time challenging individuals to move beyond perceived barriers to trust of self and others in an atmosphere of mutual support. By employing experiential-based learning activities, this training program:
Fosters group communication and decision-making skills;
Builds a sense of community;
Increases self-esteem and self-awareness;
Strengthens creative problem-solving abilities;
Encourages leadership development;
Nurtures mutual support and trust;
Clarifies and explores personal value systems.
Contact Information
Our programs provide a unique opportunity for groups to work together and develop key skills they will be able to bring back to the classroom, field, or office.
For more info or FOCUS Challenge Course reservations, please contact:
Donna Murray, Director
207.713.0582
dmurray@sweetser.org