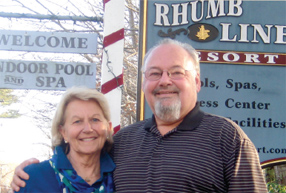 Ed Bull and Sheila Matthews-Bull own and operate Cape-Port Caterers and the Rhumb Line Resort in Kennebunkport, Maine. They are Sweetser Corporators and loyal supporters, particularly towards Sweetser's "Sold on Kids" Auction and Dinner, an annual fundraising event that raises nearly $90,000 to help support the agency's statewide programs.
As former educators, Ed and Sheila appreciate the impact Sweetser makes on the lives of students and their families. Ed was a teacher and administrator at Massabesic High School in the seventies, eighties and nineties and has been involved with Sweetser for five decades. "I was always amazed at the quality and expertise of Sweetser staff working with at-risk students in our school," says Ed. "You can't put a price tag on the positive support system Sweetser has for those in need."
Sheila, who also taught for many years before opening the Rhumb Line Resort in 1986 and is Chairperson of the Kennebunkport Christmas Prelude, remarks, "Where would these kids be without Sweetser? Now that we are in a position to be able to give back, we are pleased to support Sweetser."
Their popular Cape-Port Caterers lobster bake donation for twenty people, along with a getaway at the Rhumb Line Resort, always gets the spirited auction crowd in a bidding frenzy. "It makes us feel good," says Ed. "We hope other businesses will join us in supporting a great cause."
Learn more about Sweetser's planned giving opportunities.