One of Maine's Best Benefit Golf Tournaments                      
The 31st Sweetser/Prime Motor Golf Classic was held on Monday, September 21st at Dunegrass Golf Club in Old Orchard Beach. Many joined us along with NEWS CENTER Maine's Morning Report Co-Anchor, Lee Goldberg. This popular event is Sweetser's second largest fundraiser and traditionally fields 37 teams.
This year's winners were:
1st Gross:             Tyler Technologies                         Score 58
2nd Gross:            The Dunham Group                        Score 58
3rd Gross:             Brian Gilbert Associates                 Score 59
1st Net:                 CGI Business Solutions                   Score 46
2nd Net:                Prime Motor Group Team 2              Score 50
3rd Net:                 Domestiks Cleaning Services          Score 51
Longest Drive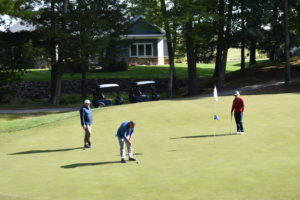 Women: Shelly McKenzie
Men: Nate Lewis
Closest to the Pin
Hole 2: Doug Woodbury
Hole 8: Kurt Thompson
Hole 11: Greg Prince
Hole 13: Georgia Gould
Hole 17: Nick Cormier
Straightest Drive
Tom McGintee
Putting Contest
1st Place               Travis Brennan                  25"
2nd Place              Richard Beliveau               31"
Normally held in June, this year's tournament was moved to September due to COVID-19 circumstances. The Classic raised over $49,000 in 2020 to support Sweetser's statewide programs and services.
For more information or to learn more about Sponsorship Opportunities, please contact the Sweetser Development Office at 294-4482. Thank you for your support!
Presenting Sponsor

Hole-in-One Sponsors
                      
                                                                                                                                    
Major Sponsors
                                                                                         
                                                                                              
PPE Sponsor
Event Partners