For Sw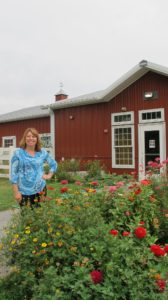 eetser, Mary Turgeon is the gift that just keeps on giving. And her generosity is expressed in many ways, including as a donor and a volunteer.
As a child, she used to visit her aunt who not only lived on Moody Street up the street from Sweetser's Saco campus, but also worked at Sweetser. That was the start of a wonderful family tradition that has positively impacted the lives of many children, adults and family members served by the organization.
As Principal at Gawron Turgeon Architects in Scarborough, Mary has a talent for designing environments that foster healing such as Sweetser's rebuilt barn on the Saco campus, where she incorporated classroom space to accommodate the Experiential Learning Program. She also transformed an office space in Brunswick into a therapeutic setting with a soothing waterfall at the entrance to welcome clients, and a curved hallway that leads to a meditation room.
Most recently, her in-kind giving and ingenuity results in the renovation of the former "President's House" on the Saco campus to serve as the new home for the New England Eating Disorders program. Thanks to Mary, the new design included the addition of a dining room, where clients now share their meals with staff in a family-like atmosphere.
Since 2008, she has been generous with her time as a member of Sweetser's Board, including serving as Chair from 2012-2014. Mary also serves on Sweetser's "Sold on Kids" Auction Committee and is a major sponsor of the event. With Mary's leadership, Sweetser is quite literally helping to building promising futures.    
Learn more about Sweetser's planned giving opportunities.