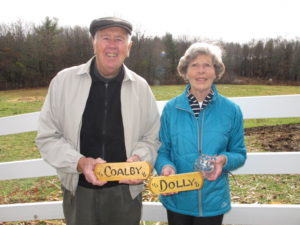 Longtime Sweetser supporters, Bill and Mary Johnson, recently made an important decision to find a new home for their beloved 20- and 21-year-old donkeys, Coalby and Dolly. The donkeys had become an extension of their family, but the Johnsons were not getting any younger and caring for them was getting more difficult. "You get pretty attached to these animals after 21 years," says Bill.
After much research, Bill and Mary contacted Sweetser's farm manager, Julia Birtolo to see if there might be a match. Julia and her assistant, Angie Anders, made four trips to the Johnson's Saco home to see how the donkeys would adapt to new people. The farm is part of Sweetser's Experiential Learning Program located in the heart of Sweetser's residential and school campus in Saco. Students are taught to take care of the animals as part of their school curriculum.
The placement has been a perfect match! The Johnsons could not be happier. Bill, a former three-term Saco Mayor and Selectman, visits Coalby and Dolly at least three times a week and the donkeys are receiving lots of love and attention from the students.
"We are so impressed with the Sweetser educational program and particularly the farm staff," says Mary. "The key to making this happen was meeting Julia. She is so dedicated and sets the tone with her management style working with the children. We admire how Julia partners with the children and does not talk down to them."
The Johnsons even hosted a donkey birthday party on campus providing carrots and apples for the donkeys and cake for the students and staff.
The Sweetser farm staff and children look forward to many years of joy having Coalby and Dolly on campus and visits from the Johnsons.
Learn more about Sweetser's planned giving opportunities.