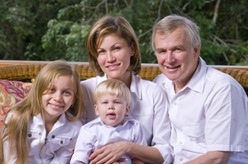 Wall Street investor Chris Emmet first arrived at Sweetser in 1954 at the age of eleven. His mother was in the midst of a divorce and struggling with four children, and Chris was acting out.
During his years living on the Moody Street campus in Saco, Chris worked with a psychologist and case worker and joined Sweetser's Little League team.
"That was an important part of my life," he said, "because it made me feel good about myself."
From Sweetser School, Chris spent one year at public school in Kennebunk and received a partial scholarship to Northfield Mount Hermon, a prep school in Western Massachusetts. After Mount Hermon, Chris earned degrees from Bowdoin College and Cornell Business School. In 1967 he went to work on Wall Street.
For two decades he has been giving financially to Mount Hermon, Bowdoin and Cornell to provide scholarships for students from Maine.
"I enjoy giving back because I'm in a position to do so," Chris said. "I like to contribute to education. Sweetser is education, but it is also more than education, it's more important."
Chris has also been a behind-the-scenes benefactor at Sweetser, which he credits with turning his life around as a child.
Over the past decade he realized that he had more to give than just money. For one thing, he had a sailboat that he kept off the coast of Maine in the summers.
In 2001, Chris teamed up with a Sweetser counselor to take three troubled teenage boys on a weeklong sail, stopping at Mount Desert Isle, Isle-le-Haut, Camden, Vinalhaven, Deer Island and Stonington. The boys ate and slept on the boat and did lots of hiking on their stops.
"It was something they had never done before and may never do again," Chris said. "Whatever you have to give, give and make the world a better place."
Chris also has a passion for fundraising, and in 2007 he was elected to the Sweetser Board of Directors.
"I haven't been getting to as many Board meetings as I'd like," he admitted, explaining how much his life has changed over the past three years.
Following a divorce from his wife of 44 years, Chris met his present wife Karol in a Costa Rican coffee shop. He was smitten with her and they married in 2008. They bought a coffee plantation – a good investment – in Karol's native country. Chris already owned a horse farm in Oldwick, New Jersey. And then there's the business of trading municipal bonds – which Chris does from his home offices, two weeks a month from New Jersey and two weeks from Costa Rica.
"I have a 46-year-old son who works with me on Wall Street and I have a one-year-old son," Chris said. "I'll be taking Thomas to soccer practice when I'm eighty!"
Chris is picture above with his wife, Karol, and their family.
Learn more about Sweetser's planned giving opportunities.