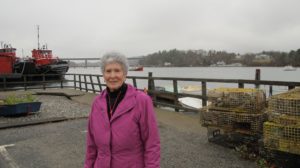 An important part of Sweetser's history is the City of Belfast, where the Children's Aid Society of Maine began in 1893, later becoming a part of what is now known as Sweetser.
Longtime Sweetser Corporator and supporter Louine Robbins is helping to keep the Society's mission alive. The Belfast native joined the Board when an opening became available in the late 1980s. She fondly recalls attending monthly meetings at Sweetser's Saco campus with other women from Belfast. "They just swept me under their wings," she said.
"Joan Dickey used to drive, and the weather always seemed to be good," said Louine of the 125-mile trip. Others on the road trips included Melanie Benner and Martha Rogers.
These days they don't have to leave Belfast to see their legacy in action. Among the many services Sweetser offers today is the School at Sweetser – known locally as the George Robertson School – where in 2006 Sweetser began a program to help youth aged 5 to 20 years old gain the skills needed to return to a public school setting.
As a sixth grader, Louine and her classmates were the first to attend the new George Robertson School, and she's happy that Sweetser is making good use of the space.
A midcoast symbol that endures today on the Saco campus is Belfast Cottage – it opened in 1951 and continues to serve Maine children today, honoring its midcoast roots.
Learn more about Sweetser's planned giving opportunities.