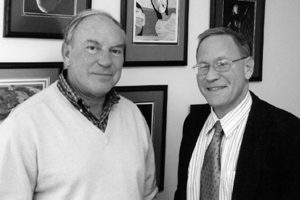 For several years, David and Marjorie Tourangeau have sought an opportunity to invest in Sweetser's future. The couple wanted to provide more than a financial gift; they wanted to leave a legacy that would significantly benefit Sweetser's clients for generations to come. The Tourangeaus have found a way to not only support Sweetser, but to strengthen their own financial position by establishing a Sweetser Gift Annuity. In return for their generous gift, the Tourangeaus will receive fixed payments for the rest of their lives. They will also receive a charitable deduction and some tax benefits.  
As a Board member and the chair of Sweetser's Development Committee David pursued the creation of a Gift Annuity Program. "Many respected institutions offer gift annuities," he explains. "Friends of Sweetser deserve the benefits that a program like this can provide."  
"Sweetser has been around for 175 years," David explains. "It is financially strong and well endowed. Before an individual can make this type of gift, there needs to be confidence in the organization's ability to manage assets well. Sweetser has my full confidence. Sweetser means security."  
David, now retired from UnumProvident, has been active in helping Sweetser grow. Originally a trustee for the Maine Home for Boys, a Sweetser precursor, he was present during the creation of Sweetser Children's Services in the mid-1980s. Since then, he has also served on Sweetser's Investment and Finance committees.  
"Gift Annuities have a good rate of return, comparable to other investments and savings," he says. "In fact, there are some great tax benefits as well. In addition, it's nice to know I'll always be a part of Sweetser. I'll receive an income for the rest of my life and can take pride in my efforts to help people find promising futures."  
David Tourangeau is pictured above with Todd Henry, Sweetser's former Director of Development.
Learn more about Sweetser's planned giving opportunities.