It's not a coincidence that Kate Sweetser has the same last name as Cornelius Sweetser III, founder of the Sweetser organization. She is a distant cousin of the late philanthropist.
Kate's brother Elliott began contributing to Sweetser in 2004 after visiting the Crisis Unit on the Saco campus with his children so they could learn more about their family heritage.
While in Maine visiting potential colleges for her daughter in 2008, they stopped by Sweetser to learn more about the organization. Following in her brother's footsteps, she began contributing to the organization later that year. Kate has supported Sweetser every year since, and became a Cornelius Sweetser Heritage Society member in 2015 – generously including Sweetser in her estate plans.  
Kate has made donations in memory of Cornelius Sweetser III and her father, who was a well-recognized Child Psychiatrist in New York. She has attended the annual Sweetser/KeyBank Sold on Kids Auction & Dinner, making a cross-country trip to show her support. Recently, she donated handmade face coverings for use by Sweetser clients and staff during the pandemic.
Asked why she is so supportive of Sweetser, she replied, "I would like to be a little part of the family for the kids of Sweetser going forward. I'll take them if they will take me." Another inspiration for her is to help families and individuals with substance use disorders and psychological challenges.   
Sweetser was founded due to the generosity of Cornelius Sweetser III – the successful Saco businessman and civic leader willed, upon his passing in 1881, one-third of his estate to the Town of Wakefield, Massachusettss, one-third to needy relatives, and one-third to establish Sweetser in support of Maine children orphaned by the Civil War. Sweetser Trustees purchased the site of the Saco campus in 1915 and opened the Sweetser Orphan Asylum, later recognized as the Sweetser Home for Boys. Later, the Children's Home of Portland, the Children's Aid Society of Maine and Maine Home for Boys became a part of Sweetser, setting the foundation for the Sweetser we know today.
Kate and her brother Elliott are continuing the Sweetser family legacy of philanthropy. We are very grateful for her dedication and commitment to our mission.
---
Paul Chamberlain's first donation to Sweetser arrived in the mail in 1977 and his support has continued ever since!
During his many years of giving, Sweetser programs and services have grown considerably, but the mission has remained constant. Says Paul, "I have always been impressed with the things Sweetser does for children and families who need the help. Where would they be without Sweetser?"
Having been raised by another family on a farm in Greenland, New Hampshire, Paul can relate to the difficulties some families go through. In his early childhood, it was decided that Mr. Chamberlain would be placed with another family on a farm where they could provide for him. He remained on the farm for 15 years. Paul learned adversity and many skills on the farm, including a strong work ethic and to never give up. He developed a deep sense of appreciation for the family who raised him and places like Sweetser.
Mr. Chamberlain recently visited the Sweetser campus in Saco for the first time. He especially enjoyed visiting the school and seeing students learn hands‐on work experiences on the farm, reminding him of his youth. "I didn't realize Sweetser was doing so many things for these children," said Paul.
Sweetser is grateful to Paul for his continued interest and support. He became a member of the Cornelius Sweetser Heritage Society in 2017 in recognition of his longtime dedication and commitment.
---
For Sw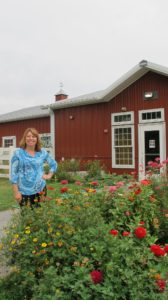 eetser, Mary Turgeon is the gift that just keeps on giving. And her generosity is expressed in many ways, including as a donor and a volunteer.
As a child, she used to visit her aunt who not only lived on Moody Street up the street from Sweetser's Saco campus, but also worked at Sweetser. That was the start of a wonderful family tradition that has positively impacted the lives of many children, adults and family members served by the organization.
As Principal at Gawron Turgeon Architects in Scarborough, Mary has a talent for designing environments that foster healing such as Sweetser's rebuilt barn on the Saco campus, where she incorporated classroom space to accommodate the Experiential Learning Program. She also transformed an office space in Brunswick into a therapeutic setting with a soothing waterfall at the entrance to welcome clients, and a curved hallway that leads to a meditation room.
Most recently, her in-kind giving and ingenuity results in the renovation of the former "President's House" on the Saco campus to serve as the new home for the New England Eating Disorders program. Thanks to Mary, the new design included the addition of a dining room, where clients now share their meals with staff in a family-like atmosphere.
Since 2008, she has been generous with her time as a member of Sweetser's Board, including serving as Chair from 2012-2014. Mary also serves on Sweetser's "Sold on Kids" Auction Committee and is a major sponsor of the event. With Mary's leadership, Sweteser is quite literally helping to building promising futures.    
---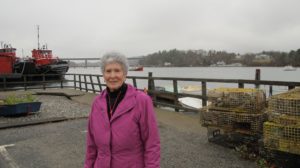 An important part of Sweetser's history is the City of Belfast, where the Children's Aid Society of Maine began in 1893, later becoming a part of what is now known as Sweetser.
Longtime Sweetser Corporator and supporter Louine Robbins is helping to keep the Society's mission alive. The Belfast native joined the Board when an opening became available in the late 1980s. She fondly recalls attending monthly meetings at Sweetser's Saco campus with other women from Belfast. "They just swept me under their wings," she said.
"Joan Dickey used to drive, and the weather always seemed to be good," said Louine of the 125-mile trip. Others on the road trips included Melanie Benner and Martha Rogers.
These days they don't have to leave Belfast to see their legacy in action. Among the many services Sweetser offers today is the School at Sweetser – known locally as the George Robertson School – where in 2006 Sweetser began a program to help youth aged 5 to 20 years old gain the skills needed to return to a public school setting.
As a sixth grader, Louine and her classmates were the first to attend the new George Robertson School, and she's happy that Sweetser is making good use of the space.
A midcoast symbol that endures today on the Saco campus is Belfast Cottage – it opened in 1951 and continues to serve Maine children today, honoring its midcoast roots.
---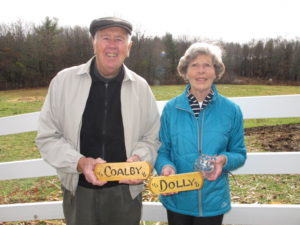 Longtime Sweetser supporters, Bill and Mary Johnson, recently made an important decision to find a new home for their beloved 20- and 21-year-old donkeys, Coalby and Dolly. The donkeys had become an extension of their family, but the Johnsons were not getting any younger and caring for them was getting more difficult. "You get pretty attached to these animals after 21 years," says Bill.
After much research, Bill and Mary contacted Sweetser's farm manager, Julia Birtolo to see if there might be a match. Julia and her assistant, Angie Anders, made four trips to the Johnson's Saco home to see how the donkeys would adapt to new people. The farm is part of Sweetser's Experiential Learning Program located in the heart of Sweetser's residential and school campus in Saco. Students are taught to take care of the animals as part of their school curriculum.
The placement has been a perfect match! The Johnsons could not be happier. Bill, a former three-term Saco Mayor and Selectman, visits Coalby and Dolly at least three times a week and the donkeys are receiving lots of love and attention from the students.
"We are so impressed with the Sweetser educational program and particularly the farm staff," says Mary. "The key to making this happen was meeting Julia. She is so dedicated and sets the tone with her management style working with the children. We admire how Julia partners with the children and does not talk down to them."
The Johnsons even hosted a donkey birthday party on campus providing carrots and apples for the donkeys and cake for the students and staff.
The Sweetser farm staff and children look forward to many years of joy having Coalby and Dolly on campus and visits from the Johnsons.
---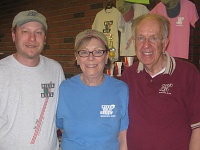 Alex Mantis, the original owner of Pizza By Alex, started donating pizza parties for Sweetser children back in 1961. A friend of his had two children who were helped by Sweetser and Alex wanted to show his appreciation by giving something back to Sweetser. His nephew Andy took over the family business in 1985, and continued the tradition, even after Alex's passing in 2007. 
Every holiday season, the children living on Sweetser's Saco campus look forward to visiting this well-established restaurant located in the heart of Biddeford. When it comes to pizza, Pizza By Alex is the campus favorite. "This is a special treat for our kids," says former Sweetser Residential Director and current Director of Intake, Gail Howlett-Brown. "We look forward to our Pizza Party all year long and it's a great way to start the holidays." 
Andy Mantis personally serves the children when they visit. "It makes me feel good to see smiles on their faces," says Andy. "For one night, the kids can just be themselves and enjoy a pizza. The holidays must be a difficult time for these kids and we are happy to make the days a little more pleasant for them."
The Mantis family has provided more than just pizza to Sweetser over the years. Upon his death in 2007, Alex Mantis bequeathed $475,000 to support Sweetser programs. Andy Mantis has been a loyal and generous financial supporter as well.
We are grateful to Andy and the Mantis family for their long-term generosity. They continue to enrich many lives and make a difference not only to Sweetser, but to numerous charitable organizations.
---
Longtime Donors Continue to Find Ways to Give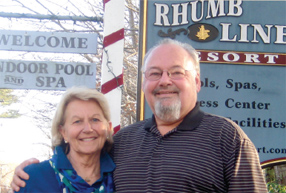 Ed Bull and Sheila Matthews-Bull own and operate Cape-Port Caterers and the Rhumb Line Resort in Kennebunkport, Maine. They are Sweetser Corporators and loyal supporters, particularly towards Sweetser's "Sold on Kids" Auction and Dinner, an annual fundraising event that raises nearly $90,000 to help support the agency's statewide programs.
As former educators, Ed and Sheila appreciate the impact Sweetser makes on the lives of students and their families. Ed was a teacher and administrator at Massabesic High School in the seventies, eighties and nineties and has been involved with Sweetser for five decades. "I was always amazed at the quality and expertise of Sweetser staff working with at-risk students in our school," says Ed. "You can't put a price tag on the positive support system Sweetser has for those in need."
Sheila, who also taught for many years before opening the Rhumb Line Resort in 1986 and is Chairperson of the Kennebunkport Christmas Prelude, remarks, "Where would these kids be without Sweetser? Now that we are in a position to be able to give back, we are pleased to support Sweetser."
Their popular Cape-Port Caterers lobster bake donation for twenty people, along with a getaway at the Rhumb Line Resort, always gets the spirited auction crowd in a bidding frenzy. "It makes us feel good," says Ed. "We hope other businesses will join us in supporting a great cause."
---
Donating Leads to Volunteering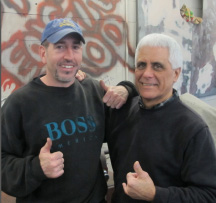 Bob Tkacik's journey with Sweetser Children's Services – as it was then called – began in 1989 when he relocated to Saco with his family. Through his interactions with Carl Pendleton, former President & CEO, and Jon Mistos, former Senior Director of Facilities, and visits to the campus at The School at Sweetser in Saco, Bob was able to witness first-hand the incredible work done to help children and families.
Bob became a Sweetser Corporator in 1989 and helped develop the Toyota/Sweetser Golf Classic as a major fundraiser. The Golf Classic continues to this day, and Bob continues to be a participant and supporter of the event. Over the past twenty-plus years, he has always been involved with Sweetser as much as possible, but his time was limited due to a thriving automobile business. He has participated in The School's Vehicle Fair for a number of years, bringing a special car from his classic and rare collection.
Earlier this year Bob was able to increase his involvement with Sweetser, when he also became a volunteer. As a volunteer, Bob spends his time at The School with Ed Tech Mark Perry who oversees the Auto Shop. The Auto Shop is a component of the Experiential Learning program, which allows students who have difficulty in traditional academic settings to learn through a hands-on environment. Due to Bob's interest and experience with automobiles, it was a natural fit.
Bob says, "I try to share my automotive experience with the kids in the program, who are all great to work with. We take on all kinds of projects from auto maintenance and minor repairs to bicycle and lawn mower "salvation". It's rewarding to work with the students and I can see that they all enjoy being there, learning but still having fun. My advice is for those who can, give back in whatever way you can. You'll be glad you did!"
Bob Tkacik (at right) is pictured in the Auto Shop where he volunteers with Mark Perry, an Ed Tech at The School at Sweetser in Saco.
---
Giving Back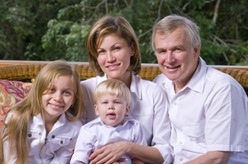 Wall Street investor Chris Emmet first arrived at Sweetser in 1954 at the age of eleven. His mother was in the midst of a divorce and struggling with four children, and Chris was acting out.
During his years living on the Moody Street campus in Saco, Chris worked with a psychologist and case worker and joined Sweetser's Little League team.
"That was an important part of my life," he said, "because it made me feel good about myself."
From Sweetser School, Chris spent one year at public school in Kennebunk and received a partial scholarship to Northfield Mount Hermon, a prep school in Western Massachusetts. After Mount Hermon, Chris earned degrees from Bowdoin College and Cornell Business School. In 1967 he went to work on Wall Street.
For two decades he has been giving financially to Mount Hermon, Bowdoin and Cornell to provide scholarships for students from Maine.
"I enjoy giving back because I'm in a position to do so," Chris said. "I like to contribute to education. Sweetser is education, but it is also more than education, it's more important."
Chris has also been a behind-the-scenes benefactor at Sweetser, which he credits with turning his life around as a child.
Over the past decade he realized that he had more to give than just money. For one thing, he had a sailboat that he kept off the coast of Maine in the summers.
In 2001, Chris teamed up with a Sweetser counselor to take three troubled teenage boys on a weeklong sail, stopping at Mount Desert Isle, Isle-le-Haut, Camden, Vinalhaven, Deer Island and Stonington. The boys ate and slept on the boat and did lots of hiking on their stops.
"It was something they had never done before and may never do again," Chris said. "Whatever you have to give, give and make the world a better place."
Chris also has a passion for fundraising, and in 2007 he was elected to the Sweetser Board of Directors.
"I haven't been getting to as many Board meetings as I'd like," he admitted, explaining how much his life has changed over the past three years.
Following a divorce from his wife of 44 years, Chris met his present wife Karol in a Costa Rican coffee shop. He was smitten with her and they married in 2008. They bought a coffee plantation – a good investment – in Karol's native country. Chris already owned a horse farm in Oldwick, New Jersey. And then there's the business of trading municipal bonds – which Chris does from his home offices, two weeks a month from New Jersey and two weeks from Costa Rica.
"I have a 46-year-old son who works with me on Wall Street and I have a one-year-old son," Chris said. "I'll be taking Thomas to soccer practice when I'm eighty!"
Chris is picture above with his wife, Karol, and their family.
---
Continuing the Tradition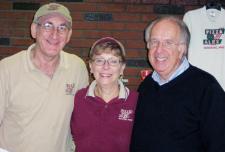 For more than 30 years, the Pizza by Alex restaurant in Biddeford has provided financial support and an annual pizza party for Sweetser students.  Owner Andrew Mantis continues a tradition that was started by his late uncle and original restaurant owner, Alex Mantis.  "We just want to help make a difference for kids, and Sweetser has a great history of helping," says Andy. "My uncle understood what it was like not to have money for a special meal, so this is just a small way to give back to those who are less fortunate."  
After his passing in 2007, Alex Mantis remembered the boys and girls at Sweetser by leaving the organization a very generous bequest that will change many lives for years to come.  Andrew assumed the family business in 1988. Each year, he closes a section of his restaurant and caters to several Sweetser students who earn the privilege to attend this special night out. It is an event that the kids really look forward to.
Sweetser is grateful to Andrew, the Mantis family and Pizza by Alex for truly making a difference. 
Pizza by Alex owner, Andy Mantis (right), with Manager Bob Cole and Andy's sister, Florence Harrison, above.
---
Creating a Gift for the Future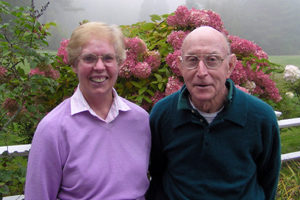 Don and Nancy Morse wanted to do something special for Maine people, especially children who are physically and mentally challenged. They decided to establish a charitable remainder trust to help fulfill their desire to benefit Sweetser, Maine Medical Center and Southern Maine Medical Center. Don has also contributed significantly to the University of New England.
 The charitable trust allows the Morses to receive a generous income while they enjoy retirement, knowing full well their philanthropic wishes will carry on after they are gone. 
"Local people supported me and my business, so this is a way we can support them in return," explains Don. Born and raised in Wells, Maine, Don was co-owner of A.M. Morse & Sons Lumber and Building Materials, a company that grew as a result of his unique relationships with local folks. Don's strong belief in personal service attracted him to Sweetser, because of the organization's commitment to personal service for children and families. 
"We want to help make a difference in our own special way," says Nancy. A Maine native from Lubec, Nancy feels the same as her husband. Her experience as a junior high school teacher with a Master's degree from the University of Maine at Orono influenced her to establish two funds through the Maine Community Foundation to provide scholarships for high school seniors to pursue higher education, and support a variety of projects for people or communities in need. 
Don and Nancy learned about Sweetser from former Sweetser Board President Sue Megathlin. "We didn't know much about Sweetser," recalls Nancy, "but we are pleased with the great work being done." Don adds, "Sweetser has a great legacy and now we are part of it."
Don and Nancy Morse are pictured together above.  
---
Leaving a Legacy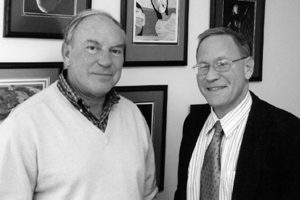 For several years, David and Marjorie Tourangeau have sought an opportunity to invest in Sweetser's future. The couple wanted to provide more than a financial gift; they wanted to leave a legacy that would significantly benefit Sweetser's clients for generations to come. The Tourangeaus have found a way to not only support Sweetser, but to strengthen their own financial position by establishing a Sweetser Gift Annuity. In return for their generous gift, the Tourangeaus will receive fixed payments for the rest of their lives. They will also receive a charitable deduction and some tax benefits.  
As a Board member and the chair of Sweetser's Development Committee David pursued the creation of a Gift Annuity Program. "Many respected institutions offer gift annuities," he explains. "Friends of Sweetser deserve the benefits that a program like this can provide."  
"Sweetser has been around for 175 years," David explains. "It is financially strong and well endowed. Before an individual can make this type of gift, there needs to be confidence in the organization's ability to manage assets well. Sweetser has my full confidence. Sweetser means security."  
David, now retired from UnumProvident, has been active in helping Sweetser grow. Originally a trustee for the Maine Home for Boys, a Sweetser precursor, he was present during the creation of Sweetser Children's Services in the mid-1980s. Since then, he has also served on Sweetser's Investment and Finance committees.  
"Gift Annuities have a good rate of return, comparable to other investments and savings," he says. "In fact, there are some great tax benefits as well. In addition, it's nice to know I'll always be a part of Sweetser. I'll receive an income for the rest of my life and can take pride in my efforts to help people find promising futures."  
David Tourangeau is pictured above with Todd Henry, Sweetser's Director of Development.
Learn more about Sweetser's planned giving opportunities.